RESIDENTIAL
CABINET MAKERS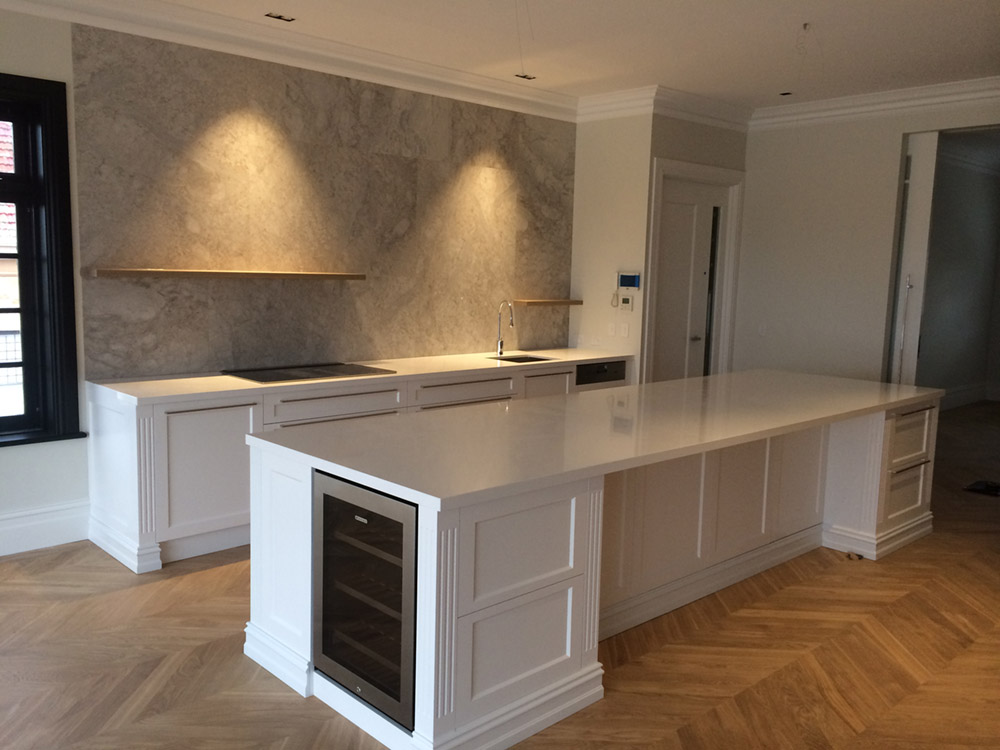 Over 38 years of business operations, there is no area of residential joinery that we have not worked on. Our residential joinery services have evolved to cater to all aspects of cabinetry work throughout the home. Cabinet Tech's fine workmanship and quality work has become a trademark for our brand. Our state-of-the-art production facility and warehouse is fully equipped with modern tools and advanced technology. All our joinery work is done in-house, we only sub-contract items out of our scope i.e. upholstery, metal frames, and 2pak painting! If you are looking for professional opinion for any aspect of your cabinetry project – from conceptualization to design and fabrication, give Cabinet Tech a call for a consultation!
KITCHEN
Fancy a stylish contemporary kitchen with all the latest gadgets and appliances? Looking to upgrade your Victorian open-plan kitchen into a more modern one? Cabinet Tech can help! Our kitchen joinery services include:
Kitchen Fit Outs – we can remodel your existing cabinets and cupboards or fabricate brand new ones for you. We specialize in undertaking whole kitchen fit-outs for domestic properties. From customized alterations to replacing kitchen doors and organizing the install of striking splashbacks in vivid colors – we can do it all.
Breakfast Bar – A breakfast bar is the perfect addition to your modern kitchen. Not only does it add to the kitchen's aesthetic appeal, but it also serves a functional purpose. Breakfast bars and islands are great ways of creating additional bench space – use it for displaying your customized coffee stations or for all your food preparation!
Wine Racks – Haven't we all walked down cellar doors and wanted one for our homes?! Whether or not you live in a sprawling mansion, Cabinet Tech can create your own piece of wine-heaven for you with our tailor-made wine racks.
Kitchen Displays & Cabinets – Whether you are looking for a hideaway cupboard for that hideous tiny space beside the refrigerator, or want to get sliding shelves installed in your pantry, we can do it all for you! Our team is skilled at fabricating and installing smart storage cabinets and display shelves that are not only easy to access but also make your kitchen the envy of your neighborhood!
BATHROOM
A bathroom is like a mini-sanctuary – a place in the home that is exclusively your own while you are in there! Make your bathrooms more functional and stylish with Cabinet Tech's range of vanities and shelving. From single and double sinks, to free-standing or wall-hung – there are options galore for you to choose from! Go wild playing with materials like marble, glass, granite or wood, and give your bathroom a makeover that aligns with your personal style – Victorian or contemporary, bohemian or rustic – your imagination is the only limit!
LAUNDRY
Laundries often tend to become one of the most ignored areas in the house. Don't let your laundry be a dumping ground of household junk. Let Cabinet Tech weave our magic with custom-built cabinets, benchtops and storage shelves for all your laundry essentials. Whether it is a clothes sorting and storage system you are after, or a display shelf for all your fancy detergent and napisan bottles, we can fabricate and install them for you.
CUSTOMIZED CABINETRY
Cabinet Tech are experts at innovative custom-made cabinetry that can transform the dull spaces in your home or office. Some of our services include:
Cabinetry for home offices – we can design and install tailor-made computer desks with dedicated space for printers, along with customized office cabinets for storing all your important documents.
Cabinetry for entertainment rooms – Got a new home theatre system for your entertainment room but don't have cabinets with in-built space for displaying it? Don't worry for Cabinet Tech can install a made-to-measure cabin for incorporating all the audio / visual elements of your entertainment system.
Tailor-made home bar and wine racks
CALL CABINET TECH FOR RELIABLE & QUALITY JOINERY WORK